Etnoidentidad y territorialidad en el universo cultural de los pueblos ancestrales etnia Zenú.
Cita
Thumbnail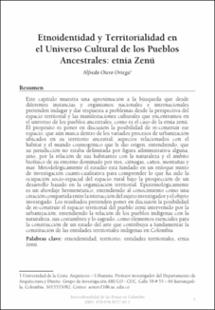 Gestores Bibliograficos
Código QR

Capítulo - Parte de Libro
Este capítulo muestra una aproximación a la búsqueda que desde diferentes instancias y organismos nacionales e internacionales pretenden indagar y dar respuesta a problemas desde la perspectiva del espacio territorial y las manifestaciones culturales que encontramos en el universo de los pueblos ancestrales, como es el caso de la etnia zenú. El propósito es poner en discusión la posibilidad de re-construir ese espacio, que aún marca dentro de los variados procesos de urbanización ubicados en su territorio ancestral; aspectos relacionados con el hábitat y el mundo cosmogónico que le dio origen; entendiendo, que su jurisdicción no estaba delimitada por figura administrativa alguna, sino, por la relación de sus habitantes con la naturaleza y el ámbito biofísico de su entorno dominado por ríos, ciénagas, caños, montañas y mar. Metodológicamente el estudio está fundado en un enfoque mixto de investigación cuanti-cualitativa para comprender lo que ha sido la ocupación socio-espacial del espacio rural bajo la prospección de un desarrollo basado en la organización territorial. Epistemológicamente es un abordaje hermenéutico, entendiendo al conocimiento como una creación compartida entre la interacción del sujeto investigador y el objeto investigado. Los resultados pretenden poner en discusión la posibilidad de re-construir el espacio territorial del pueblo zenú intervenido por la urbanización; entendiendo la relación de los pueblos indígenas con la naturaleza, sus costumbres y lo sagrado, como elementos esenciales para la construcción de un estado del arte que contribuya a fundamentar la constitución de las entidades territoriales indígenas en Colombia
This chapter shows an approach to the search that from different instances and national and international organisms pretend to investigate and to give answer to problems from the perspective of the territorial space and the cultural manifestations that we find in the universe of the ancestral towns, as it is the case of the zenú ethnic group. The purpose is to discuss the possibility of re-constructing this space, which still marks within the various urbanization processes located in its ancestral territory; aspects related to the habitat and the cosmogonic world that gave rise to it; understanding, that its jurisdiction was not delimited by any administrative figure, but, by the relation of its inhabitants with the nature and the biophysical scope of its surroundings dominated by rivers, swamps, pipes, mountains and sea. Methodologically, the study is based on a mixed quantitative-qualitative research approach to understand what has been the socio-spatial occupation of rural space under the prospect of a development based on territorial organization. Epistemologically, it is a hermeneutical approach, understanding knowledge as a shared creation between the interaction of the investigating subject and the investigated object. The results intend to put into discussion the possibility of re-constructing the territorial space of the zenú people intervened by urbanization; understanding the relationship of indigenous peoples with nature, their customs and the sacred, as essential elements for the construction of a state of art that contributes to support the constitution of indigenous territorial entities in Colombia.
Interculturalidad de las etnias en Colombia